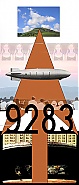 Artist Statement
Creating images is at the core of my being. I create work that gives me aesthetic pleasure, and challenges me intellectually. My work is informed by collage and assemblage—an aesthetic that creates something new out of existing, disparate objects—and by filmmaking, which is, essentially, obtaining and assembling the parts necessary to make an aesthetically coherent whole.

In the natural world, and in the world under the hand of man, I find visual rhythms. These rhythms are defined by many elements: by the order of space and plane; by line and form; by texture, by color, by juxtaposition and by the specific nature of light. I find these rhythms exciting and pleasing, and I seek to express them in my work.

The viewer completes the process by interacting with the work through their interpretation of it. The exercise for me, then, is to create a visual experience that captures viewers; compels them to consider the image; allows the image to become their own perceptual personal property.